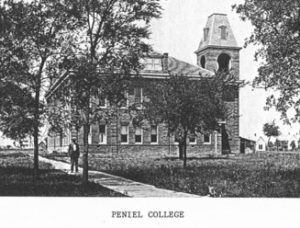 Several years ago a historical marker relating to the history of the Peniel community northwest of Greenville was destroyed. Rumors floated around that it was stored somewhere in Peniel, but after an intensive search, the Hunt County Historical Commission decided to purchase a new marker to be installed on the northeast corner of North Rees and Alpha Street.
Rev. Eugene C. DeJernett purchased 53.1 acres of woodland a mile and one/half northwest of Greenville on March 5, 1895. He planned to use the property as an annual campground for members of the Holiness faith. Members came in wagons, camped in groves of oak trees for several weeks each summer while attending revivals. On certain days 'faith healing" occurred.
DeJernett, the son of Dr. Reuben DeJernett, a pioneer doctor in Hunt County, joined with B. A. Cordell and wife Ethel to obtain a total of more that 95 acres for Texas Holiness University, chartered June 17, 1899. Financial support came from Rev. W. G. Airhart also known for his award winning poultry. Airhart paid for the Girls Dormitory. Sales of lots surrounding the college paid for other buildings.
Each deed to new home lots included a most unusual proviso: "While owned by me or in my possession or under my control, I bind myself not to, or allow anyone else, to sell intoxicating drinks, tobacco in any form, morphine, cocaine on said premises, except as medicine, and it is further understood and agreed that worldly amusements or practices which the trustees and faculty of Texas Holiness University pronounce as deleterious to the well-being of the University, shall no be practiced by me or allowed by me . . ., I consent it invalidates the title of the land."
As a result no ads for no ads for liquor, tobacco, or cards were posted on electric streetcars running from Greenville to Peniel.
The college opened in September 1899 with 27 students, and 108 before the term ended. They came from 19 states. Tuition, room, and board totaled $106 per year with an extra charge of $12 per term for music classes. Students learned Greek, Theology, Latin, Mathematics, English, and Music including piano, voice, and guitar. Elementary and high school students attended the prep school or academy as it was called. Such arrangements were common at the time.
The community grew around the college. The Holiness Post Office opened in 1901, but the name changed to Peniel (Pe NI el) at the request of citizens in 1902. The Texas Holiness University name changed to Peniel University in 1912 after the Holiness denomination merged with others to create Church of the Nazarene. An orphanage and widows' home opened in 1919 a year before the university was moved to Bethany, Oklahoma. That institution is now known as Bethany Nazarene College and holds most of the old Holiness University and Peniel Univeristy records in the library archives. The archivist gladly answers questions about the college.
After the college closed in 1920 the widows' home and orphanage remained until the hard times of the Great Depression. Both closed in the 1930s. Peniel existed as a small community with a post office, a few stores, a blacksmith's shop at one time, and an independent school district. In 1957 Peniel citizens petitioned the City of Greenville to annex them. In April of that year, Peniel became a suburb of Greenville. Stop and read the historical marker sometime. Drive around in the wooded area that was once a charming college. It's a treasure.