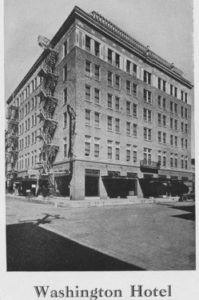 One of the most important social events in Northeast Texas was held every February 22 during the Roaring 20s and early 1930s. The grand Hotel Washington on Washington Street in Greenville, Texas hosted the George and Martha Washington Dance that was the spot to be and be seen.
Women shopped for weeks looking for that exquisite gown that would stand out among all the others on the dance floor. Hairdos, jewelry, shoes, and wraps were carefully selected to give each lady the aura of elegance.
Young girls had high hopes of becoming a candidate for Lady Washington. A small group of teenaged girls were named about four weeks before the big event. Then the fun began. Lady Washington was chosen by votes, votes that cost a small amount of money, perhaps one dollar per vote. It soon became a family event, with fathers convincing clients, friends, and neighbors to buy votes for their daughters. Mothers and siblings also engaged in selling votes. The winner would finally be announced at the dance. Of course, the money was simply a contribution to a local men's club like the Lions Club for philanthropic causes.
The evening began with a seven-course dinner in the Mezzanine Floor Dining Room. Only the finest china, silver and crystal were used. Lavish floral arrangements decorated each table and filled nooks and crannies around the room. Ensembles from Dallas often provided dinner music. Dinner tickets generally cost from $2.50 to $5.00. Ironically no wines, champagne or hard liquor were served as this was during Prohibition when Greenville was supposedly "bone dry."
After the banquet, costumed George and Martha Washington led the procession to the Roof Garden for a late evening of dancing to another fine band.
It was here that the winner of the Lady Washington contest was announced with royal flourish.
Like the Dining Room below on the Mezzanine Floor, the Roof Garden was elaborately decorated. While it was an open garden in summertime, February's cold winds demanded it be enclosed and heated. Floors were hardwood to make dancing easy. Seating for approximately 400 guests was provided. More food and drinks were available. However, the question becomes, did men and women bring in a flask of liquor to warm up with on such a cold evening? If so, it was a well-kept secret.